Description
Assistance and tools for you to reach your farm's full potential:
Improve your grazing – Assign your herd, date & feed slot, Assign individual paddock attributes, Utilise dynamic feed wedges, Develop & print grazing plans
Grow your farm – Manage individual paddocks, Manage multiple herds, Manage multiple farms, Manage your historical data
Enhance your nutrition – Easy-to-use ration builder, Record your production, Record your fertilisations, Input unlimited feedstuffs
Pasture.io provides a comprehensive grazing planner to increase your pasture utilisation. Your herd's nutritional requirements can be used to guide you in decisions when feeding supplementary feeds such as grain or forages, or for realising your production targets. Many metrics are saved at each of your grazing activities and used for strategic decisions in the future.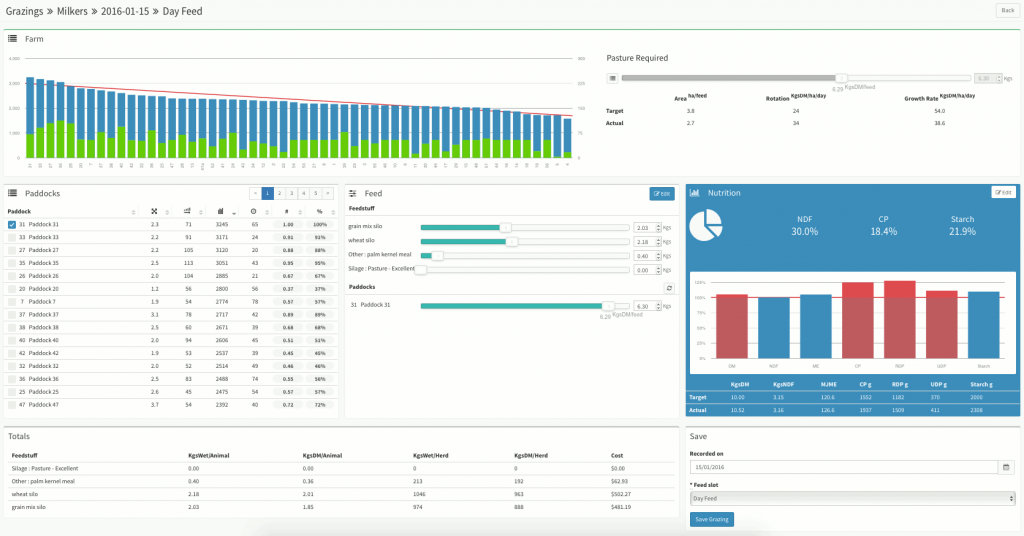 Pasture.io will help you understand your farm's potential by aiding in management decisions, which in turn will increase your profitability through low and high milk price years.
So, you think you can manage your pasture in Excel or on the run? Think again… Pasture.io crunches metrics effortlessly, manipulates pasture data handling for your full benefit, and includes complex formulas that work seamlessly under the bonnet to increase your farm's performance.
Farmers need a program that minimises the time it takes to make informed pasture management decisions. This is at the core of Pasture.io, allowing you to make serious decisions to increase your pasture utilisation and animal performance.
Pasture.io offers you a simple yet powerful solution for your grazing system no matter how big or small, simple or complex your operation/s may be. This is due to Pasture.io being built by farmers with farmers and for farmers from across the spectrum of grazing systems with an underlying emphasis on flexibility, customisation and suitability.